Blackhawks' 'Mr. Goalie' on NHL today: 'It's a goon game'
Ex-Hawks great, trendsetter decries it as 'goon game'
David Haugh, Chicago Tribune, May 21, 2009
Glenn Hall is hockey's true iron man among goalies, having played 502-straight regular-season games over eight seasons -- and without a mask. Hall led the NHL in shutouts six-consecutive seasons and was in goal when the Hawks won the 1961 Stanley Cup. He is the first goalie to play with what is now known as the butterfly style, a low, wide stance to fan the body across the goal to cover the corners.

Back in the day, the pressure a goaltender such as
Nikolai Khabibulin
has faced to save a playoff series against a superior team like the
Red Wings
probably would have made Glenn Hall, arguably
the Blackhawks
' best goalie ever, vomit.

But then Hall made vomiting a vital part of his pregame ritual during a 19-year
NHL
career that began with the Red Wings and included a decade in Chicago: Lace up, throw up, and go stand on your head for 60 minutes.

"I did it before almost every game because I played better when I did and I was hyper," Hall said Wednesday on the phone from his farm in Stony Plain, Alberta. "It was pretty natural. I worked myself into it. I reminded myself I was representing my family and it would be unforgivable to not play at a certain standard."

During the 1960s in Chicago, maybe only
Mayor Richard J. Daley
was protected better than the Blackhawks' net.
Nowadays Hall, "Mr. Goalie" to Hawks fans who remember him from the 1961 Stanley Cup champions, only feels like throwing up while watching a sport he often struggles to recognize. The player who still owns an NHL record considered untouchable -- 502 consecutive games by a goalie, all without a mask -- lamented, "I am not a big hockey fan."

"It's a goon game now," said Hall, 77. "It used to be a skill game, but it's not anymore. It's changed. They don't call penalties for charging, boarding or hitting from behind. You have to question who's educating these officials. So I don't bother to watch much."

When Hall has tuned in to the Western Conference finals between the Blackhawks and Red Wings, he has seen goaltenders Khabibulin and Detroit's
Chris Osgood
employing the butterfly technique he is credited for introducing to the league back in the late 1950s. Tony Esposito, Hall's fellow Blackhawks legend who played from 1969-84, later subtly modified the butterfly but still used much of what he learned watching Hall in his prime.

"A lot of Blackhawks fans today never got to see Glenn play and how great he was, but he was the one that started [the butterfly]," Esposito said in a phone interview. "He was up there with the best ever. I was lucky I didn't have to come directly after Glenn or else I'd have had more pressure. We both were agile and had quickness, [but] he was the beginning of the change of goaltending style."

A butterfly goalie protects the lower portion of the net by dropping to his knees and spreading his hands to block shots on goal in a synchronized movement similar to the way a butterfly flutters its wings.

Many NHL goaltenders such as Khabibulin, and
Patrick Roy
of Denver before him, have enjoyed stellar careers using the style, but some still avoid relying too much on the butterfly because it can leave the top of net vulnerable. Interestingly, Osgood revived his career in 2005 by altering his primary approach from stand-up to butterfly -- kind of like a dead-pull hitter in baseball forcing himself to hit to the opposite field.

To Hall, the transition from stand-up to butterfly came down to common sense.

"It was a natural progression of goalkeeping," he said. "In the pre-mask days, goalies would stack their pads and keep their head away from the puck. With the butterfly you could drop but still keep your head up so you don't get hit. Critics said I couldn't do it and shouldn't do it, but they didn't know what they were talking about."

Never shy with his opinions, Hall says it was that outspoken nature that was responsible for making him a Blackhawk. Back in the 1950s, the Norris family that owned the Red Wings also had controlling interest in the Blackhawks with Arthur Wirtz. So business between the two teams essentially was an inter-office transaction.

After Hall's third season, for example, Red Wings officials asked the 1956 Rookie of the Year to stop buddying up to teammate Ted Lindsay, who was the co-organizer of the NHL Players Association.

"I said I had a problem with that and there are certain things you probably shouldn't tell your boss," Hall said. "So after I didn't have a great playoff series [in 1957] the Norris family made a mistake and traded me to Chicago. That's where they traded players they wanted to punish."

His punishment was Chicago's pleasure for the next decade.

The Blackhawks planned to pay tribute to Hall's tenure during a ceremony April 1, but his wife, Pauline, has been ill so he stayed home in Stony Plain, a small town where a highway and hockey rink are named for him. One day Hall still would love to make the trip to see old friends Dale Tallon and Rocky and Peter Wirtz, as well as Scotty Bowman, who coached Hall with the
St. Louis Blues
.

"It would be nice to walk into the dressing room for a number of reasons," said Hall, whose No. 1 is retired. "Those are good memories. Chicago Stadium, there was no greater building in sports."

Without Hall, the old Stadium never may have hung a '61 Stanley Cup banner. He was as tough as he was instinctive, once returning to a game after getting 26 stitches in his chin. He had 20-15 vision and cat-like reflexes he kept sharp in the off-season playing table tennis at home in Canada.

If you call Hall the greatest goaltender in franchise history, don't expect him to disagree.

"It's complimentary, but I'd have to agree," Hall said. "I had some good years there in Chicago."
dhaugh@tribune.com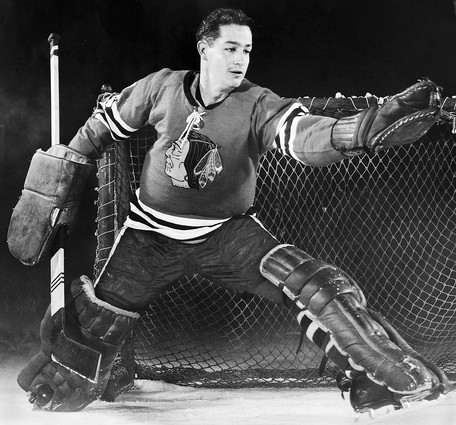 ---
I was lucky enough to watch Glenn Hall play, both as a Cup winner with the Blackhawks and into his time with the St. Louis Blues. IMHO there are few goaltenders who come close to matching the quality of Hall's goaltending, especially when you consider how profoundly he influenced the way the position was played.
The fact that he played almost his entire career without a mask adds to the complexity and intrigue of a man who is--if you've ever seen his profile and interview in the great TV series "Legends of Hockey"--both quiet and intense.
His thoughts on the game today--as opposed to how it was played back in his time--give one pause.
What are yours?