GAME 2 - 2010 Stanley Cup GAME DAY: Ottawa Senators (1) @ Pittsburgh Penguins (0), Friday Apr. 16, 2010 - 7:00PM EST.
Ottawa (Lead series 1-0) visit the Mellon Arena to face Pittsburgh (Trail series 0-1) for game two of their round 1 best of seven series Friday night. Ottawa gets the first win of the series in a nail biting 5-4 final. This game was not as close as the score might indicate. Ottawa held 2 goal leads for large parts of this game and didn't appear to let off the gas protecting the lead. Any time the Pens got it within one the Sens would answer back except of course after the 4th goal by Pittsburgh which came in the last couple minutes of game 1. Fleury was down right awful at times while Elliott was solid but not spectacular. There was some luck for both sides. Kelly's goal off of a weird deflection from a dump in and of course Malkin's second goal which came off of the inside of Chris Phillips' knee. Both teams excelled on the Power Play and if the Sens hope to have any chance of heading back to SBP up 2-0 they'll need to be better on the PK and do a better job taking away Malkin's time and space. Another key will be to get more out of the Sens top line. In a 5-4 win they factored in on just the game tying goal.
Ottawa will look to go up 2-0 Friday night for the second game of this series. Look for a much more focused and hungry game from the Penguins. I don't expect to see them come out flat again. Ottawa just needs to attempt to match that intensity and hope to get out of the first period tied or maybe down by 1 goal. Fire as much rubber at Fleury as possible because if he lets another softy in it may start to affect him. Elliott will need to be NHL 1st star of the week calibre at times in this game if they hope to win. Both teams will be better and more prepared so game two sets up to be even more exciting.
Game Coverage

TV: Versus, CBC (HD)
Radio: Team 1200
Web: check ATDHE.net and Justin.tv

Latest updates:

Milan Michalek completely tore his ACL and will have season ending surgery

LineupsOttawa Key Injuries

Milan Michalek (torn ACL, done for the year)
Filip Kuba (back surgery, out a month)
Alexei Kovalev (torn ACL, done for the year)

Penguins Key InjuriesPlayoff Previews:ESPN Playoff Stats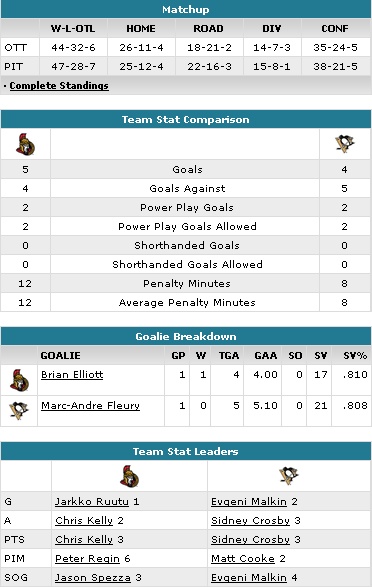 Media Links:

Official Sens Twitter
SensTVOnline

GO SENS GO!!!


Last edited by Cap'n Clutch on Thu Apr 15, 2010 2:06 pm; edited 2 times in total