GAME 3 - 2010 Stanley Cup GAME DAY: Ottawa Senators (1) @ Pittsburgh Penguins (1), Sunday Apr. 18, 2010 - 6:30PM EST.
Bye-bye home ice, it's now a best of five.
The Sens proved that they are creatures of habit as they, yet again, failed to go up 2-0 in a playoff series. As expected, the Penguins were better as they outshot the Sens 31-20 and outhit them an unreal 52-31 (some home ice advantage in those totals, I think). The biggest hit of the night belonged to Mt. Sutton who leveled Jordan Leopold with what was deemed a legal hit. No penalty, no suspension, but it sure made the rest of the game interesting.
The Sens have also proven that they are in this series. Rookie Regin scored his second goal in as many career playoff games, just 18 seconds into the contest, and if not for some sloppy coverage by Spezza on Crosby, driving to the net, the game out come may have been different. Spezza did a better job covering Crosby later on, but Sid still managed to escape from behind the net and pass the puck to Letang at the point for the winner. Well, actually, Crosby fell to his knees and the pass looked more like him losing the puck, except that no Sen player was around to retrieve it. They have to cover the points better than that. Rest assured, in the next two games Sid will not be lining up against Spezza as often as he did in the first two.
Bottom line, as nice as it would have been to be up 2-0, the Sens have done more than anyone who gets paid to write about hockey imagined they could do. They took away the Penguins' only two statistical advantages: goals for, and home ice advantage. It's now a best of five series, with the Senators holding home ice advantage. And after 2 games (on the road, I might add) the Sens are dead-even with the Penguins in goals for and against.
Of course none of that really matters unless they sweep at home, but for now, at least we know that The Kids are Alright.
...now, if we can get Alfie and Fish going ...
Game Coverage

TV: VERSUS (HD),CBC (HD),RDS (HD)
Radio: Team 1200
Web: check ATDHE.net and Justin.tv

Latest updates:

Sutton's hit on Leopold is ruled legal; no suspension.

LineupsOttawa Key Injuries

Milan Michalek (torn ACL, done for the year)
Filip Kuba (back surgery, out a month)
Alexei Kovalev (torn ACL, done for the year)

Penguins Key Injuries

Jordan Leopold (temporal confusion -- he still thinks it's yesterday)

Playoff Previews:ESPN Playoff Stats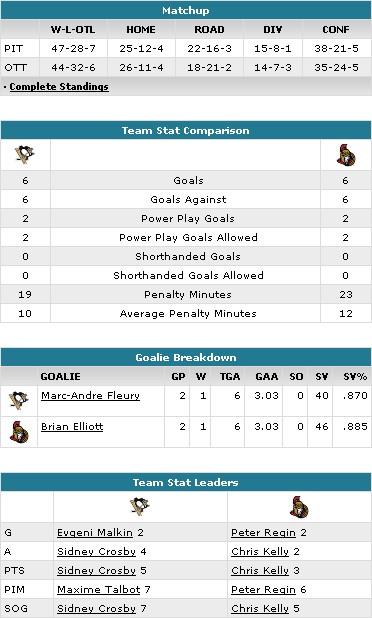 Media Links:

Official Sens Twitter
SensTVOnline
Brian Elliott speaks to the media following Friday's game: http://bit.ly/bJoRR3
Clouston talks to media after 2-1 loss: http://bit.ly/d26c7y
Spezza speaks with the media after 2-1 loss: http://bit.ly/cbRhKA
Fisher speaks with the media after 2-1 loss: http://bit.ly/9koUEs

GO SENS GO!!!