Cowen and the B-Sens look to wrap it up!!!

VS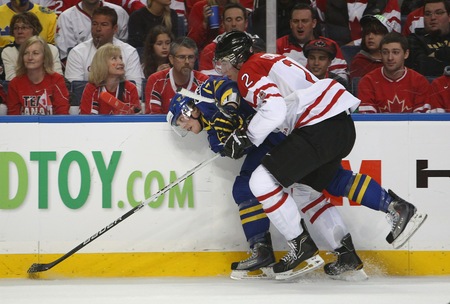 Binghamton Probable Lineup:
Z.Smith - Potulny - Keller
Greening - Locke - Butler
Daugavins - O'Brien - Condra
Hoffman - Dziurzynski - Wick
Benoit - Cowen
Kinrade - Wiercioch
Borowiecki - Sloane/Raymon
Lehner
Brust
Portland Lineup:
Whitmore-Adam-Mancari
Stuart-Byron-Parrish
McCauley-Ellis-Tropp
Gongalsky-Turnbull-Legault/Kassian
Persson-Biega
O'Hanley - Fienhage
Crawford - Conboy
Enroth
Lieggo
SD's Red Line Report:
Only one this time: Jared Cowen.
Cowen joins the B-Sens after a sensational year in Spokane captaining the Chiefs. Not only did Spokane buck the early speculation that they wouldn't be very good, they got within 2 wins of making the WHL Finals. How much of this has to do with the 6'5", 230+ pound defender? A
lot
.
From the WHL.com:
Cowen, a second team all-star a season ago, finished the year with a career high 18 goals, 30 assists and 48 points. His +44 was also a career high and second on the Chiefs. Cowen is just the third defenseman from Spokane to earn a first team honor as he joins Bryan McCabe (1994) and Kurt Sauer (2002) as the only Chiefs to have been named to the team.
A huge, calm presence on the backend, Cowen was the turning point in the series for Portland once they figured out how to get him away from Nino and Johansen by splitting them up. Before they did, Cowen was doing what he does best, stopping them in their tracks and making them pay for entering the zone, but with last change coming to Portand, it ended up being very difficult to match - and sure enough Portland was able to prevail.
Cowen should make a huge difference for the B-Sens in Game 6 and Game 7 if needed as the B-Sens blueline was taking a beating. He should be able to step in and upgrade the D immediately. One thing's for sure, all eyes will be on him in Game 6 - and the excitement level should be palpable.