Congrats to Tim on the new baby.
Someone do the work for me?  Thanks.
OK, here you go:
GAME DAY: New Jersey Devils @ Ottawa Senators - 7:30pm ET - Thur. Oct. 17th, 2013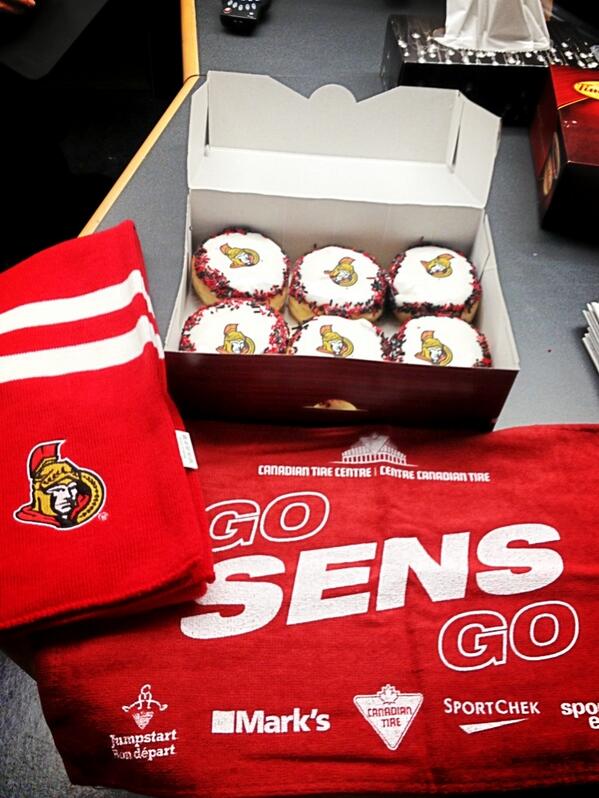 After winning the final game of their 6-game, season-opening road trip on the strength of Spezza's natural hattrick and Conacher's strong play (including the OT winner), the Sens finally come home to find Frank Finnegan's gone and replaced by something called Point Chek, the building not sold out, Melnyk losing an extra $16M, and Kaleta suspended for 10 games. So it's not all bad news.
The Sens have not payed very well in their own end, giving up a ton of shots and taking lots of bad penalties. But after a slow start (all of 2 games!) Bobby Ryan has 3 goals in his last 4 games and is a PPG player. Spezza is slowly coming up to speed. Turris has been fantastic (except for faceoffs). And MacArthur is as advertised, a fast, smart player who contributes in both ends of the rink. Still lots of things to work on (face offs, discipline, PK, SDC) and being at home will help in that regard by affording a more regular practice schedule.
The Devils have not won a game in their first six starts, establishing a new team record. Martin Brodeur (confirmed as the starter) is sporting a 3.19 GAA and a .878 SV%. This is the first of three games that the Devils will visit Ottawa, but given how the season is going, this may be your last chance to see Brodeur. Except for those Delissio ads, of course.
Game Coverage:
- TV: MSG PLUS 2, SNET-OTT
- Radio: TSN 1200
- Web: vipbox.tv
Possible Team Lineups:
Phoenix Coyotes: http://www2.dailyfaceoff.com/teams/lines/30/new-jersey-devils
Ottawa Senators: http://www2.dailyfaceoff.com/teams/lines/33/ottawa-senators
Starting Goalies:
Today's starting goalies: http://www2.dailyfaceoff.com/starting-goalies/
TSN's Ice Chips:
Source: http://www.tsn.ca/nhl/icechips/
Injuries:
OttawaNew Jersey

Ryane Clowe placed on IR (head)
Ryan Carter doubtful (UBI)
Game Day Previews:
Ottawa Senators
NHL.com
ESPN
GO SENS GO!!!